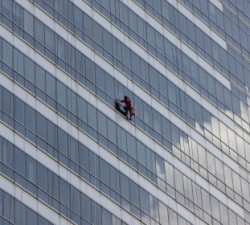 What jobs have the most work related injuries?
We are sometimes asked – which jobs produce the most workers comp injuries?  We also sometimes get asked a very different but related question:  What are the most dangerous jobs?
It's tough to answer the question: what are the most dangerous jobs?  Who defines dangerous?  What constitutes a dangerous job?  Does dangerous mean most likely to get hurt or injured, or does it mean most likely to die?  Painting a bridge might be the most dangerous job.  Maybe it's being a hang gliding instructor.  Perhaps being a mercenary is the most dangerous of all.  We don't have statistics about those things.  But we do have statistics about Maryland workers' compensation.
The most work related injuries are in the Policemen – Security category.
Being a law enforcement officer is widely regarded as dangerous.  Furthermore, there are many in the police – security category of comp.  In 2011, in the state of Maryland, there were 2,385 workers comp claims filed by members of the police –security category.  It has been the top category for years running.
Rounding out the top five most common industries for workers' comp include truckmen, colleges or schools, general construction, and hospital employees.
It might not surprise you that law enforcement, construction, or even truck drivers get hurt a lot.  But it is surprising that injuries in educational institutions and in hospitals are so common.  How dangerous are hospitals?  Schools and Colleges?  Really?  The answer is simply: there are more workers in these industries.  What would really be good to know is what percentage of all workers in a given industry get hurt every year.
| | | | |
| --- | --- | --- | --- |
| | 2011 | 2010 | 2009 |
| Policemen – Security | 2,385 | 2,485 | 2,143 |
| Truckmen | 1,763 | 1,514 | 1,127 |
| Colleges or Schools | 1,569 | 1,532 | 1,495 |
| Hospitals | 1,067 | 1,007 | 877 |
| General Construction | 990 | 920 | 777 |
Our source for the above information is the MD WCC.